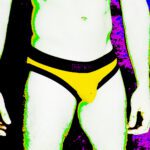 MED (5 PK) LUCKY BRIEF/BIKINI
Are you feeling Lucky?
Lucky Brief/Bikini- This is a mix of any Briefs/Bikinis. They are a mix of colors and fabrics, all Size Medium.
Lucky items are dramatically discounted photoshoot samples that have been prepackaged into packages of 5.
They are all in Size Medium.
Requests for specific items not available, they are a SURPRISE.
Unit Price 5.40 each
Limited Quantities- Don't Wait for this Great Deal.
Additional information
Custom Fronts
Compare Pouches
Size Chart
Fabrics
Care
Custom Fronts
Compare Pouches
MCK Custom- Points downwards for a natural hang. It is about the shape and the feeling, you cannot go wrong with the sizes.
Some people wear the 5 to the gym, 6 to the club and 3 to the office. (1 is the smallest followed by 3)
(P1 Grower, P2 Big Balls, P3 Mainstream, P4 Thick, P5 Bounce, P6 Massive)
Max Bulge- Shaped like a tennis ball this product lifts you into a round handful shape also comes with Free Cock Ring for an Extra Bulge.
Hoist- Shaped like a pistol this gives you a horizontal bulge that pushes you forward for maximum profile enhancing.
Freeballing- No enhancement pouch
Size Chart
Mckillop Size Chart
Small             Medium           Large             Xlarge
28-30″           32-34″               36-38″           40-42″
71-76 cm       81-86 cm         91-97 cm      102-107 cm
Keep in mind that each collection and pouch design has a different feel and purpose.
If it lifts and enhances it will be tighter. If in doubt between 2 sizes always go 1 size larger.
Fabrics
94% Modal 6% Lycra (Modal)
95% Polyester 5% Lycra (Sphere)
82% Nylon 8% Lycra (Ultra Mesh)
92% Polyester 8% Lycra (Sheer Mesh)
95% Polyester 5% Lycra (Expose Mesh)
95% Polyester 5% Lycra (Glory Mesh)
50% Cotton 50% Polyester
(Heathered Cotton)
82% Nylon 18% Lycra (Nylon Lycra)
82% Nylon 18% Lycra (Nude Lycra)
100% Polyester (Flex Mesh)
100% Polyester (Impulse)
100% Polyester (Sports Mesh)
100% Polyester (Bolton Swim)
100% Polyester (Camouflage)
Some of us are from a time when Polyester had a bad reputation.
There has been many advances in the textile field and we only use materials that are soft, luxurious and affordable. 
Care
We recommend hand wash and lay to dry for the longest product life.
Machine washing is permitted (cold water is best) (low heat) (similar colors) but piling does occur with machine dryers.
Do not iron or use bleach.
We do not use any fire retardants or harsh chemicals on our products.